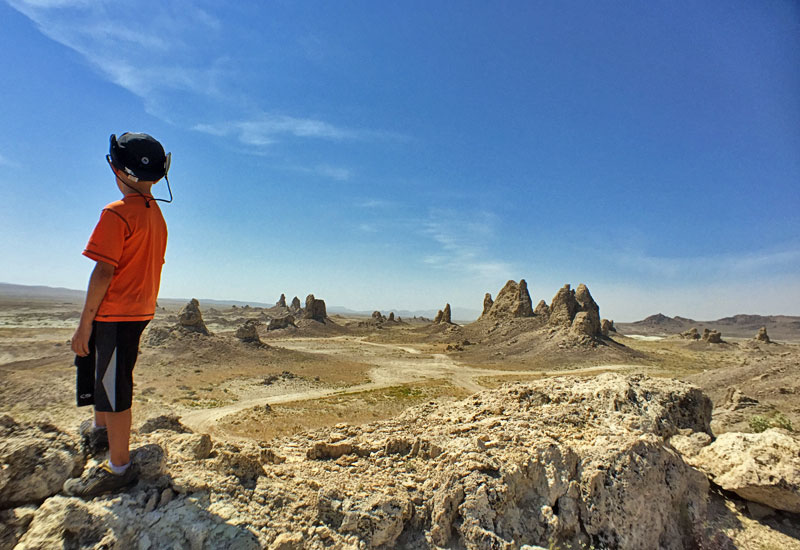 Exploring the Trona Pinnacles, Mojave Desert
---
Just three hours north of Los Angeles, the Trona Pinnacles National Natural Landmark is a unique, other-worldy landscape of towering tufa pinnacles against the starkly beautiful backdrop of the Mojave Desert. Once the bed of an ancient lake, the remote location is easy to access, and there are a number of trails and dirt roads that lead through the pinnacles to amazing views and secluded campsites. There's nowhere else like it in California.
Details
Address: Look up map directions to 78625 Pinnacle Road, Trona, CA 93562, and then continue on the dirt road for 6 miles until you reach the pinnacles (more details below)
Drive Time: 3 hrs from Los Angeles
Cost: $0
Facilities: Vault toilet, no running water
Camping: Yes, details below
More Info: Ridgecrest BLM office 760.384.5400
Highlights
Tufa pinnacles, desert landscape, hiking trails, camping, starry nights, and wildflowers if you're there in the spring.
Our Itinerary
We left Los Angeles at dawn and arrived by about 9AM, stopping for breakfast in Mojave on the way. We spent several hours driving around the network of roads, jumping out to take photos, and to take shorts hikes. Around 1PM, we took shelter from the sun in the shade of the truck over by the main parking area, and made some lunch. Both kids asked for bowls of hot spicy ramen. The perfect meal when it's 100°F. We all took naps, and then explored more in the few hours before sunset. Sunset was beautiful against the pinnacles. At around 9PM, I drove the three hours back to L.A. It was a loooong drive home. We should have stayed the night.
Exploring the Area
Once you arrive at the pinnacles, you'll see signs for the scenic loop drive that takes you through the main formations and returns you back to the main lot. If you're just visiting for a short time, this is the thing to do. You'll be stopping to take photos every two minutes. There are trails and roads everywhere along the way if you have more time. The main trail up into the pinnacles is just off the parking area near the bathrooms.
Some rules for exploring. Stay on established roads and trails, do not collect wood for fires, and do not climb the tufas. The arid habitat appears to be rugged and tough, but it is fragile. The harsh conditions makes recovering from damage very difficult.
Warning – Any car is fine driving the dirt to the pinnacles, but I wouldn't drive the scenic loop unless you have a high clearance vehicle. Do not drive through the sand washes unless you have a 4-wheel drive. There is no mobile phone signal out there if you get stuck.
Trona Pinnacles Camping
The area is managed by the Bureau of Land Management (BLM), which means camping is free, no reservations are required, and there are no designated campsites. That said, the BLM encourages campers to use existing campsites and fire rings. There is one vault toilet where the access road first meets the pinnacles. Near the bathroom, there is a large flat area where a few RVs were parked. I've seen photos of people camping in tent there as well. Or follow one of the many two-track dirt roads through the pinnacles to find a more remote site. There is no running water or firewood available. Camping is limited to 14 days.
Trona Pinnacles Geology and History
The entire basin on which the pinnacles sit is the dry bed of Searless Lake, one of a series of lakes that stretched from Mono Lake to Death Valley during the Pleistocene era. The tufa pinnacles were formed underwater between 10,000 and 100,000 years ago. They are composed primarily of calcium carbonate and algae. At the bottom of the lake, calcium-rich groundwater and alkaline lake water combined to grow the tufa formations. There are three sets of tufa formations – northern, middle, and southern – all of different ages and characteristic shapes. Makes sure to stop and read all the info displays to get the details.
Trona Pinnacles Plants and Animals
With annual rainfall at only about three inches per year, and temperatures above 115°F in the summer, Trona is a tough place to live. Despite that, the area is home to falcons, ravens, foxes, coyotes, kangaroo rats, desert iguanas, horned lizards, and rattlesnakes. Also, it's home to the endangered desert tortoise. If you see a tortoise, don't touch it. When we were there in April, it had just rained and the wildflowers were in full bloom. The entire area for miles around was buzzing with great bugs scrambling to find flowers, and the sky was filled with a million butterflies. It was incredible.
Getting There
The Trona Pinnacles National Natural Landmark is about 20 miles east of Ridgecrest, CA, close to three hours north of Los Angeles. Take Hwy 178 off the 14 through Ridgecrest heading east. About 8 miles after the intersection of the 178 and Trona Mountain Road, you'll see a sign on the right for the pinnacles. Follow the bumpy BLM dirt road (RM143) for about 7 miles.
We did it in a day from Los Anageles, and it was tough. If you're spending the whole day at Trona, I recommend camping overnight or grabbing a hotel in Ridgecrest. That said, it's absolutely worth a quick visit if you're on your way up to Mammoth from Los Angeles. You can see a lot in just an hour or two. Have fun!