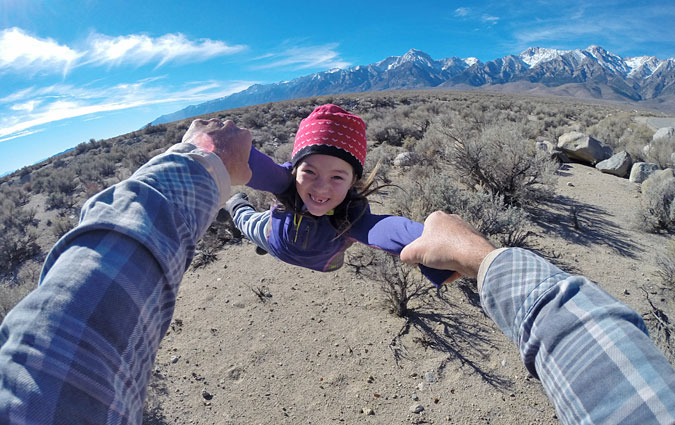 Weekend in Lone Pine – Exploring Alabama Hills and Onion Valley
---
Lone Pine is a great little frontier town in Inyo County, California, about 3 1/2 hours north of Los Angeles. The town is located in the Owens Valley, near Mt Whitney. The surrounding area is beautiful, with soaring peaks, mountain lakes, rolling hills, and desert flats. There are endless opportunities for adventure close to Lone Pine – fishing, camping, hiking, rock climbing, and serious mountaineering. In mid-February, we spent a weekend in Lone Pine exploring the Alabama Hills Recreation Area and nearby Onion Valley.
Details
Address: Look up map directions to this address in the center of town, 130 S Main St, Lone Pine, CA 935455. From Los Angeles, you'll take the 5 to the 14 to the 395. It's a 3-3:30 hr drive.
Camping: Yes, in the Alabama Hills (see below)
Fishing: Yes. Alpine trout season – last Saturday in April through October.
Dogs: Yes
Bring: Hiking boots and day packs. Warm layered clothing.
Highlights
Alabama Hills high desert rock formations, Mobius arch, views of the Sierras, hiking trails, mountain lakes, and snow if you go at the right time of year.
Our Itinerary
We spent three days in and around Love Pine in early March.
Friday – Drove up from LA in the morning, spent all day exploring the Alabama Hills, dinner in town, then back out to the Hills to see the stars
Saturday – Onion Valley hike
Sunday – Back to Los Angeles
Lone Pine
Lone Pine is known for it's role in the history of making Hollywood Westerns (over 100 films were shot in the area) and as the portal for Mt Whitney mountaineering expeditions. It's a nice little town, made up mainly of sporting good stores, hotels, and restaurants. And a Western Movie Museum. Just realizing as I'm sitting down to write this post that I didn't take a single picture in town during the weekend.
Where to stay: There are a number of small reasonably priced hotels in Lone Pine. I used the app Kayak to find a place. And camping is free in the nearby Alabama Hills, no reservations required.
Where to eat: We ate breakfast and dinner at the Mt Whitney Restaurant, both days.
Other shops: Next door to the Mt Whitney Restaurant is Lone Pine Rock & Gift. Lots of interesting geology in there, and a big bin of polished rocks that my kids loved. Across the street is Elevation Sierra Adventure an excellent outdoor gear shop. Everything you'd need for sale and rent, and a great source of information. Definitely stop in and ask questions.
Alabama Hills
The Alabama Hills are a range of, well.. hills, and exposed rock formations near the eastern slope of the Sierra Nevada Mountains in the Owens Valley, west of Lone Pine. About 30,000 acres of land maintained by the Bureau of Land Management (BLM). Though very different in appearance from the sharp peaks of the nearby mountains, geologically they are a part of the Eastern Sierras.
To find the Alabama Hills, take Whitney Portal Road west from Lone Pine toward the mountains, and then turn right on Movie Flat Road. It's a dirt road, but well maintained. You do not need a 4-wheel drive vehicle or even a truck. About 1/2 mile in, there's a turn off to the right and a small parking area. From there, take any one of the many trails through the rocks and explore the area. We wandered around lost in here for hours snapping photos and taking whatever trails we happened upon and climbing whatever we could. There are many campsites in this area of the Hills.
Mobius Arch
Although there are something like 100 little arches reported around the Alabama Hills, the main attraction is the Mobius Arch. About 2 miles in from Whitney Portal Road, there's a distinct fork in Movie Flat Road. Take the right fork, and you'll see the Mobius Arch Trail parking area immediately on your left. The well-maintained loop trail head is marked with a sign, and the trail is lined on both sides by small rocks. After hiking for maybe 1/4 mile you'll come to a T in the trail, go to the left and you'll see the arch after just another few minutes of walking. The loop trail is an easy 1 mile walk all the way around.
Alabama Hills Camping
It was too cold at night in mid-February for us to camp, but the Alabama Hills is a popular campsite. The are is maintained by the Bureau of Land Management, so camping is free and there are no reservations required. You can pitch a tent or stop an RV anywhere you want, but if you drive and walk around a bit, you'll see many established campsites with flat areas for tents and stone fire rings. There is no running water and no bathroom facilities. Campsites closer to Whitney Portal Road looked well-used and there were a lot of broken beer bottles around. If I was to go back and camp there with my kids, I'd drive deeper into the area, past the Mobius Arch, to find more remote spots.
Onion Valley Trail Hike
We'd originally planned, to spend day our second day at the foot of Mt Whitney hiking around, but after talking to the owner at Elevation, he convinced me that Onion Valley would be sunnier and more beautiful and more fun for the kids. He was right, it was a great hike.
To get there, drive 20-30 minute north up the 395 to the town of Independence. Turn left on Onion Valley Road, and continue up into the mountains until the road ends. WARNING: Technically Onion Valley Road is closed during the winter months, but it is not blocked off. You can just drive around the closed sign. (We weren't the only people who did this.) The road was dry and free of snow when we were there, BUT the road was covered with large rocks. Go very slowly and weave your way through.
The 4-mile switchback trail up to Pothole Lake (also called Gilbert Lake I think) starts right from the end-of-the-road parking lot. You'll see a trail map display of the valley's trails and lakes at the trail head. This was a pretty serious hike for the kids. The air is a little bit thin, and we stopped often to rest and eat snacks. I was ill-prepared for the snowy trail, and the kids feet were wet and cold in their sneakers. Oops. They should have been wearing real hiking boots.
Although the trail goes on and on all the way across the Sierras, we stopped at the first lake to explore and eat lunch. Where the lake wasn't frozen over, we could see small trout swimming around in the crystal clear water. I need to get back there with my fly rod someday.
Have Fun!
There's so much more to do around Lone Pine than I've outlined here. Camping, fishing, hiking, and hunting. If you discover something great, I'd love to hear about it. Leave a reply or shoot me an email. Have fun and save travels.