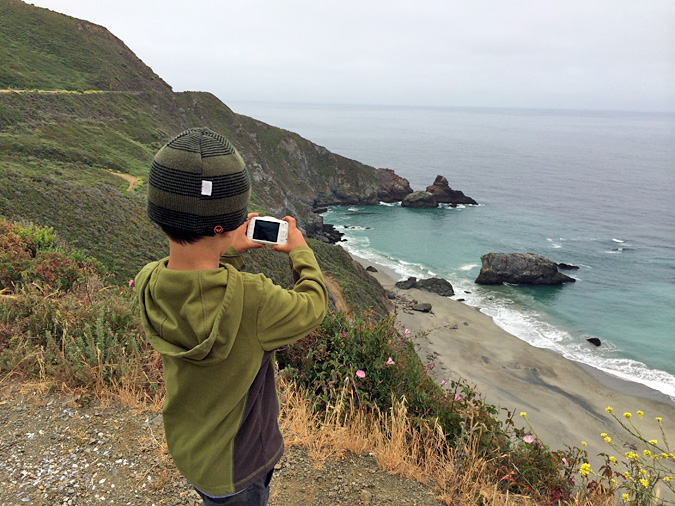 Big Sur Camping, Kirk Creek
---
Big Sur is 90 miles of spectacular coastline in the Central Coast region of California where the Santa Lucia Mountains rise from the Pacific Ocean, stretching from the San Carpoforo Creek in San Luis Obispo County, north to the Carmel River in Monterey County. There are a number of state parks and beaches, campgrounds, and more vista points over looking the rocky cliffs than you can count. There is more to Big Sur that can be seen in a single visit, but we did our best during our four days at Kirk Creek campground in June.
Details
Cost: Kirk Creek Campground $15/night. Firewood $8/bundle
Facilities: Bathrooms
Water: No. Kirk Creek is a dry campground. Bring your own water for drinking and washing.
Dogs: No
Our Itinerary
Day 1: Drove from LA to Kirk Creek Campground (about 6 hrs), stops in Morro Bay for breakfast and Cambria to elephant seal beach, campsite set up, explored Kirk Creek beach
Day 2: Pfeiffer Beach and Partington Cove
Day 3: Limekiln State Beach and hiking, Big Sur Village
Day 4: Drive to LA, stop at Estero Bluffs State Park
What to Bring
Someday I'll write a blog post about what to pack on a weekend car camping trip. Couple tips here. It gets cool at night and it's chilly in the morning when the fog rolls in. Bring warm clothes and rain gear. Also, Big Sur Village is an hour drive from Kirk Creek, so not very convenient for shopping etc.
The Drive
From LA, we drove the 101N to Morro Bay, then the PCH up the coast into Big Sur. Get out of LA at dawn, and stop for breakfast in Morro Bay at Kitty's Kitchen. Best corned beef hash on the planet. Past Cambria you'll see signs for the elephant seal beach lookout. Definitely worth a quick stop. Soon after, the coastal cliffs start to rise and the drive is slower but beautiful. Take your time if you can to stop to see the views.
Kirk Creek Campground
Campsite: We arrived at Kirk Creek mid-afternoon on a Thursday with no campsite reservation, and we were lucky to get the last spot. The description I'd read online was correct, every spot has an ocean view. And the campsites in general are large with plenty of space between them. Kirk Creek is a dry campsite with no running water for drinking or washing. Each site has plenty of room for multiple tents or small RV or trailers, a picnic table, and a fire pit. Wood is for sale by the entrance. Do not leave any food or plastic water laying around the campsite. It will be gnawed on by woodland creatures.
Beach: At the south end of the campground, there's a short trail down to a beautiful rocky beach. Definitely go explore. Beach access is difficult along most of the coast because the cliffs are so steep. The trail is lined with huge wild fennel and flowers, and the air is filled with their smell. And bees. So move quickly. Or run screaming like my kids. Great rocks for climbing around on down by the water. We saw otters too. And no one else was around.
Limekiln State Beach Park
Just a few minutes north of Kirk Creek is Limekiln State Beach Park and campground. I'd heard a lot about Limekiln and had initially tried to get a campsite there, but they were all booked up. After seeing it, I was glad we weren't there. The beach itself is small, pretty, and definitely worth a stop. But relative to the rest of Big Sur, it was crowded. The "beach" campsites were grim. You're basically camping in a parking lot a couple feet from your car with neighboring tents almost within arms reach. Everyone who walks to the beach, walks through the lot right past the beach campsites. Away from the beach, in the woods, the campsites were still small but there looked to be a bit of breathing room, and much less foot traffic. But still, I was disappointed with the whole set up. I don't plan on camping there.
If you do stop at Limekiln, check out the beach for a minute and then take the hike through the forest to the falls. I think it took us about 30 minutes or so. Classic lush forest with tall trees, streams, ferns, and huge clover.
Partington Cove
The pullout is 2 miles north of the Julia Pfeiffer Burns State Park. There's a sweeping bend in the road, and usually cars parked on either side. On the ocean side of the road, there's a gated dirt road to the water. That's your path down. When you get down near water level, there's a sign about the sea life in the cove. If you go to the left, you'll follow a short path through a tunnel and out into the cove. There's a railing and a bench to sit and chill. Back at the sea life sign, if you go to the right, there's another small cove. We sat and watched the waves rolling in while we ate a picnic. Really lovely little spot.
Pfeiffer Beach
Pfeiffer Beach is a must stop. Like everything it seems in Big Sur, it is unmarked and easy to miss. It's near Pfeiffer Big Sur State Park, not Julia Pfeiffer Burns State Park. (Not confusing at all.) Look for mile marker MON 45.64, about 0.5 miles north of the post office up near Big Sur Village. If you're traveling north, there's an unmarked narrow paved road on your left. It is Sycamore Canyon Rd, but there's no sign. The only sign is a yellow "Narrow Road" sign. Travel down Sycamore Canyon for about 2.5 miles to the parking lot ($5). There are bathrooms and a path to the beach. Go early, as it get's windy in the afternoon. Walk to the right to see the keyhole rock and the purple sand beach. We spent hours there.
Big Sur Village
We ate a couple meals in town. I asked the gas station attendant where to get a burger, and he said The Maiden Pub, so we went. There are a few shops right there too – a little general store and local artist shops. On our second day, we ate brunch at the Big Sur Bakery. If you eat one nice meal in Big Sur, go there. Brunch is amazing. They are not open for an early breakfast, but they have great coffee and baked goods to take on the road.
Estero Bluffs State Park
On the drive back to Los Angeles, we stumbled upon Estero Bluffs. Being an ecology geek, I found it interesting and dramatically different from what we'd just left behind in Big Sur. Park by the road and follow the trail to the bluff, and then find any one of a number of trails down to the water. We saw seals and a number of birds here, and lots of intertidal critters in the enclosed protected bay. The beach is all pebbles and shells.
Other Things To See (that we didn't)
Some other things to stop and see that we didn't have time to explore.
McWay Waterfall – Perhaps the most photographed spot in Big Sur. Beautiful waterfall that spills over the edge of a cliff down to the sandy beach below. McWay Falls is in Julia Pfeiffer Burns State Park. There's some tight parking along the road, and a scenic overlook. And maybe a trail down to the beach. I may be the only person ever to visit Big Sur and not take a photo here.
Bixby Creek Bridge – I've seen many photos of this great bridge, but it was too far north for us to hit during our limited time there.
Henry Miller Library – We passed this several times, but never quite made it in.
Big Sur Lighthouse – Again this was too far north for us to visit, but it looks interesting.
Point Lobos – I'm not sure I'd consider this part of Big Sur, as it's just minutes south of Carmel, but it looks like an amazing spot.
More Info
Kirk Creek campsite reservations online www.recreation.gov or call 877.444.6777
Big Sur Bakery www.bigsurbakery.com or 831.667.0520